Colorful Ships: Toddler Educational Games Online
Happy Clicks features games specifically designed for toddlers.
Your toddler will want to play this games again and again!
No mouse skills required for these toddler games, just tap the keyboard and the fun begins! Babies and toddlers will have fun watching the cause and effect with each key stroke. It is great for children that are just understanding the cause and effect concept.
All Keypress GAMES for toddlers >
HOME > Baby Games - Toddler Games - Preschool Games >
Introduce your kids to computer with HappyClicks.net online games. Mothers and fathers will find on this website free activities online.
Free todder games 1- 2 - 3 year olds.
All the Games for Toddlers and Babies, Games for preschoolers by dragging and dropping and Mouse Skill Resources at this site are free.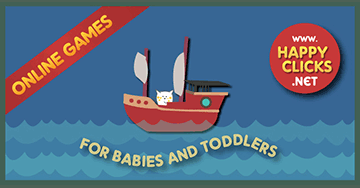 ***
FROZEN
"Frozen" is a fantastic story about two sisters and the power of the love between them. It is about letting go, being yourself, and having faith in someone even though they don't have faith in themselves. Idealfor kids and toddlers in Kindergarten. All great messages for people to live by. The themes and moral are handled well through the film and not once does it become preachy or grating. The animation in the film is gorgeous. The characters move fluidly and the expressions on their faces are where some of the most intense emotions of the film come from. Elsa's magical powers are used well and there is both beauty and danger to it. The colors are vibrant and the use of blues and other colder colors really makes us feel the chills of the eternal winter. An ideal movie for kids and toddlers. This movie was just...wow. Everything is simply perfect. The music is phenomenal, the voice-acting and singing is top-notch, the animation is incredible, there's a huge plot twist towards the end you won't see coming, and it's simply one of the most hilarious movies. Like vintage mythical animations of Disney had done, Frozen will gift a fond memory for audience long after they leave the cinema. It's filled with stuffs childhood memory is made of; loveable characters, witty humor, great soundtracks and pleasant graphic. Appropriate movie for your kids and family.
www.happyclicks.net Free Online Toddler Games and Baby Games