★ Games for toddlers and kids by Happy Clicks ►
Free online maze games for children, toddlers and preschoolers kids from 3 to 6 years old. In our site created for free online children's entertainment, we aim to create the best educational exercises so that kids, boys and girls from 3 to 6 years old can play and learn online, safely and without downloading. This free educational game for kindergarten children, toddlers and preschoolers kids consists of playing through an online maze with the truck until you find the exit and the yellow square, using the arrows on the screen or the keyboard, without downloading.
Free maze game for preschool kids: Truck
On our online children's entertainment site with free educational games and without downloading, kids, boys and girls from 3 to 6 years old will find the best and most wanted free online maze games for kindergarten children, toddlers and preschoolers.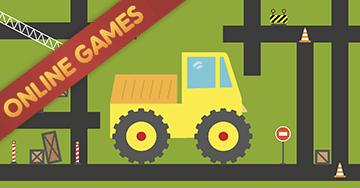 From the age of 3, most kindergarten children, preschoolers and toddlers are ready to start playing with our free online maze for kids. At that age, children, boys and girls are already able to understand and accept the rules in free educational games and play to move the objects towards the exits. They will also have enough logical ability to solve all our free online mazes games for children that we have created for the entertainment and learning of kindergarten and first grade kids and toddlers. Labyrinths are ancient children's games in which kids, boys and girls have to find their way from the beginning to the end. There are easy free mazes and others that are a bit more difficult. As the kindergarten children get the solution of the easy educational games, toddlers, girls and boys will be able to play and move on to the more complicated mazes like our free maze games with obstacles without downloading. It will all come with practice as you play online on a daily basis.