★ Games for toddlers and kids by Happy Clicks ►
The online maze games for children, toddlers and kindergarten kids that we offer on our free entertainment site are intended as free educational games for boys and girls from 3 years old. They are designed in two levels of ascending difficulty, some simple online maze games and other more complicated ones with obstacles to avoid. By creating free maze games by level, we get children in kindergarten to increase their confidence by playing our online educational maze daily without downloading. This particular free game for kids, toddlers and preschoolers consists of playing to take the train, without touching the stones, to the red circle.
Free maze games for kids and toddlers to play: Train
Play with our online maze games is not just entertainment. With our free educational games and especially with our online mazes for children, boys and girls from 3 to 6 years old, from kindergarten and first years of primary school kids, will be able to play and enjoy many advantages without downloading. Kindergarten boys and girls, toddlers and preschoolers will be able to practice persistence, concentration, exercise their minds and get used to challenges. That's what it's all about, playing and learning at the same time with the best free online maze games for children, toddlers, kindergarten kids, girls and little boys. The most wanted online children's entertainment for kindergarten kids to play safely and without downloading.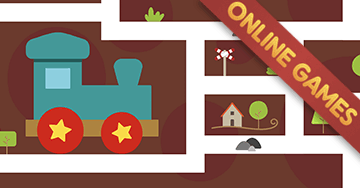 Among the many educational and entertainment free activities for children online that you can use to educate your kids and toddlers there are the maze games for boys and girls from 3 to 6 years old that we offer on our educational site for free and without downloading. Both children and kindergarten kids will have a good time deciphering, trying not to trip over obstacles and twists and turns, as well as exercising their intuition and skills to get out of the children's educational labyrinth. The best thing then is to play our exclusive free online maze games for children, toddlers, preschoolers and kids from 3 to 6 years old.