★ Games for toddlers and kids by Happy Clicks ►
Happycliks presents the best free online maze games for toddlers and preschoolers, boys and girls. Designed by our experienced cartoonists with the most beautiful drawings and colors. Here we offer to kindergarten kids, preschoolers and toddlers from 3 to 6 years old this educational maze game to enjoy online and play for free without downloading. Use the arrows to play and guide this friendly jellyfish through the children's maze game until you reach the green circle.
Online maze game for preschool kids: Jellyfish
Free online maze games for kindergarten kids and toddlers are a fun entertainment and educational activity for children that, when playing, will help them develop skills such as fine motor skills. At the same time, online kid's mazes for preschoolers, kindergartners and toddlers will help develop logical strategy and the ability to concentrate and focus. In our growing area of free games and entertainment for young children and toddlers from 3 to 6 years old, you will find educational mazes of different difficulty levels to entertain the kids in kindergarten. More than ten years of experience in the entertainment and creation of children's games for free endorse us so that little girls and boys can safely enjoy playing without downloading with our free online educational activities for young kids. Kindergarten children and toddlers can play in complete safety and without downloading .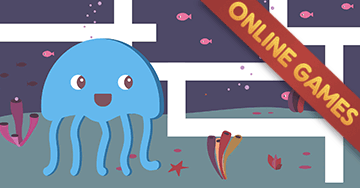 The online educational games for children presented in these free online maze games for kids, preschoolers and toddlers from 3 to 6 years old are presented as an attractive and fun entertainment way for children in kindergarten and early elementary school. While they play and enjoy our online maze games for free without downloading, they reinforce basic and essential skills for children's, kids and toddlers learning. It is a playful online activity, therefore, completely suitable for early childhood education of preschoolers. For all these reasons, don't miss out on the opportunity to play the best free online maze games for children, kids and toddlers.