★ Games for toddlers and kids by Happy Clicks ►
In Happyclicks we create entertainment with the most wanted free online maze games for toddlers and preschoolers from 3 to 6 years old. Within our online educational games for young children in the kindergarten and first years of primary school section, we offer this free children's maze game with the Moon as the protagonist. With the help of the arrows, kids must take the nice moon to the green square. Girls and boys can play this educational children's game for free without downloading.
" Online labyrinth for toddlers: Moon"
Playing with kid's educational exercises online and in particular with our free maze games for young preschoolers and toddlers from 3 to 6 years old are presented as a fun online educational entertainment form for kids in kindergarten and first primary school years. Here you will have the chance to play the best maze games online and free without downloading for kindergarten, toddlers and kids from 3 to 6 years old.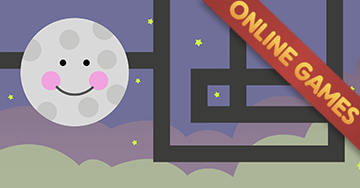 Playing our free online maze games for kids, toddlers and preschoolers makes the education go hand in hand with the online entertainment and fun for kindergarten kids. Among the many online educational activities and games that you can use to educate the little ones in the house, you will find our free mazes for young children to play without downloading. When playing, toddlers, preschoolers, boys and girls from 3 to 6 years old will have a good time of entertainment deciphering, trying not to hit the obstacles and reach the end of the children's maze game, as well as testing their intuition and their ability to choose the ways. Playing helps the educational development of children's abilities such as concentration and memory through the best free online children's entertainment without downloading for kids, boys and girls from 3 to 6 years old.