Online Bird Maze Game for Preschool Kids
Happy Clicks Website provides, amongst other games, excellent games to learn how to use the arrow keys.
Play The Birdie Maze Game using the arrow keys.
Visit other Free Maze games for kids.
Encourage fun and learning at the same time with HappyClicks.net online games. There are no time limits. No winners or losers.
Made for children who love playing online games at an early age and for parents with the purpose of combining fun with educational activities, HappyClicks.net is the best website for your baby, toddler, and preschooler, featuring age-appropriate entertaining learning games.
All the learning preschool games, toddler games and baby games at this site are free.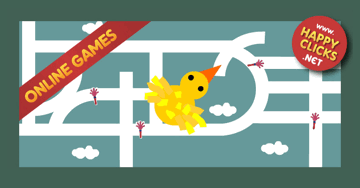 Here you will find many others Preschool games to play and Online Coloring games for Toddlers and Preschoolers.
Finally I've found it. These are the best games for my 4 year old daughter. Thanks. Veronica
Great game for my 3 years old son. Dina
Great learning game for toddlers! Norine
Good for toddlers. My 4 years old plays here all day. Paula
Excellent game. Good for toddlers. Mandy
This game is excellent! Thank you! Lisa