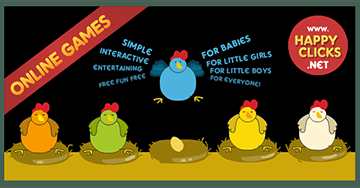 Your kids will want to play this games again and again!
No mouse skills required for these toddler games, just tap the keyboard and the fun begins! It is great for babies and toddlers that are just understanding cause and effect.
Mothers and fathers will find on this website free baby activities online.
All the Games for Toddlers, Games for preschoolers online and Online maze games for kids at this site are free.
Free games for 2 year olds.
My 2 year old son, Johnny, loves your games. Karina, San Antonio
After a long search finally find what I was looking for. My toddlers are happy with these games. Anna, Boston
Website safe and fun for the younger children and babies. Richard, Washington
I am happy when I see my daughter learning with educational games that you do! Victoria, San Francisco
With this website I can let my son play quietly while learning. Steve, Los Angeles
These educational games are perfect for children 1 to 3 years old. Agnés, Austin
www.HappyClicks.net Free Online Toddler Games and Baby Games