Play Chickens and chicks:Toddler Educational Games Online
We hope that you enjoy the games and your time together with your children!
All KEYPRESS GAMES for toddlers >
HOME > Baby Games - Toddler Games - Preschool Games >
Happy Clicks provides, among others, games specifically for babies and toddlers age 1 - 2 - 3.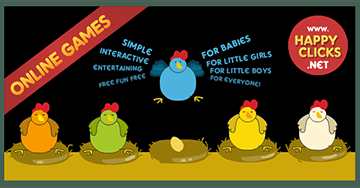 Your kids will want to play this games again and again!
No mouse skills required for these toddler games, just tap the keyboard and the fun begins! It is great for babies and toddlers that are just understanding cause and effect.
Mothers and fathers will find on this website free baby activities online.
All the Games for Toddlers, Games for preschoolers online and Online maze games for kids at this site are free.
Free games for 2 year olds.
***************
Movie Reviews - Kids Movies: UP
Excellent kids movie! An imaginative tale from the brilliant minds of Pixar about an elderly gentleman named Carl who, after losing his wife, devises a plan to escape society and live out his dreams of going to South America by attaching helium balloons to his house and taking off.An ideal movie for kids and toddlers. If the greatest adventure in life is love then the first 20 minutes of these rates as the best adventure film so far this year. The musical score is touching, the characters are dynamic, the visuals are astounding, the writing is fantastic, and the storyline is gripping, moving, and unique. Carl and Ellie are best friends from childhood. They get married and move into a lovely house. The next part is sad. Many years pass after Ellie passes away and Carl is forced out of his home by developers, so he ties thousands of balloons to the house and sets off for Paradise Falls in South America. There he meets his lifetime hero who is hunting a very rare bird. This sequence of events leads Carl to a happy ending. Packed with heart and thrills, Up excites in the best way, at the same time offering nuggets of wisdom while keeping the action and drama going. The animation is top notch and the voice acting is equally impressive, but the writing and direction really carry the film beyond. The visual language is rich and distributed throughout the film, so bring tissues because the tears will fly. Appropriate moviesfor your kids and family.
www.HappyClicks.net Free Online Toddler Games and Baby Games