Play with Numbers! Toddler Educational Free Games
Interactive toddler games. Learning numbers 1 to 10 for Babies, Toddlers and Young Children can be fun!
Happy Clicks provides, toddler games that are activated by pressing any key.
Your children will want to play this games again and again!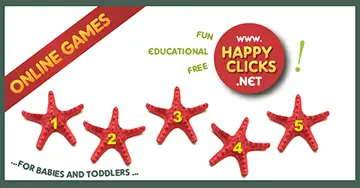 No mouse skills required for these games for toddlers, just tap the keyboard and the fun begins! Young children will have fun watching the cause and effect with each key stroke. It is great for toddlers and babies that are just understanding cause and effect.
All Keypress Games for Babies and Toddlers >
We hope that you enjoy the games and your time together with your baby!
A beautiful video to learn to count to 10 for Babies and Toddlers >
Mothers and fathers will find on this website several activities for toddlers online. Introduce your kid to computer with HappyClicks.net !
Parents can enjoy playing with their baby, toddler or preschooler.
See the Free Games for Toddlers, Preschool games to play and Maze games for kids to play.
Movie Reviews - Kids Movies: MOVIES: RANGO
The animation was stunning. The voice work was amazing, especially Johnny Depp, who has his best role since POTC, and Bill Nighy, who's insanely perfect as the bad guy snake who has a badass machine gun for a tail, the humor is great, the film references are hilarious, and the score is brilliant!. Also this movie was hilarious! I wasn't expecting it to be funny but that was brilliant that they added lots of comedy in there. It's an ideal film to watch with your kids. I never heard of this movie until i went to see it in the cinema on the kids club a few weeks ago. I really enjoyed it and my 4 and 6 year old did too. It's not the traditional animated movie id thought it be. It has a strong story coupled with some amazing voice acting and some truely breathe taking animations. It's fun, silly and sometimes serious in places but this is the best animal crossover modern western movie ever put to film. I actually recommend it to younger kids, around 5 years and younger. There are some scary parts, some cussing, and a lot of adult jokes. But overall, Rango is a fantastic film that's one of my favorite animated movies in years. Appropriate movie for your kids and family. Highly recommended.
Here you have a Counting Numbers 1 – 10 Activity to provide children an opportunity to play and count with numbers 1 – 10 at home! >