Making the rainbow: Baby Games and Toddler Educational Free Games
Your kids will want to play this games again and again! Free games to play online using keyboard or the touch screen version for Android or iPad.
Your easy to play and colourful games keep the kids entertained and happy.
Jennifer, Sacramento
Fun games for toddlers, just tap the keyboard and the fun begins! Children will have fun watching the cause and effect with each key stroke. It is great for toddlers and babies that are just understanding cause and effect.
View all the Games Keypress for Babies and Toddlers >
HOME > Toddler Games and Free Preschool Games >
We hope that you enjoy the games and your time together with your kids!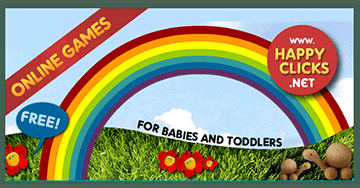 This website features many activities for kids to do. Made for children who love playing online games at an early age and for parents with the purpose of combining fun with educational activities.
Online toddler games 2 year olds.
All the Games for Toddlers to play online, Online maze games for preschoolers and Memory games online for kindergarten kids at this site are free.
Mothers and fathers will find on this website several activities for toddlers online. Introduce your baby to computer with HappyClicks.net !
****
Movie Reviews - Kids Movies: Despicable Me 2
The sequel to the hit animation movie is back, so how did it do? The movie was so good, the magic of the characters from the first movie is back with this sequel. The cute little minions were the stars of the movie, every time that they were in a scene, it gives you the feeling that they're about to do something memorable. Idealfor kids and toddlers in Kindergarten. The movie looks good, a perk that makes the characters alive. The best family comedy this year. Despicable Me is the best great animated movie series. It was a superhero adventure packed with action and lots of laughs. Kids, toddlers and adults will be talking about this movie for months. Is Despicable Me 2 a laugh riot? A few scenes are, but more often than not it'll put a smile on your face and garner a steady stream of chuckles. While this movie is undoubtedly made for kids and toddlers, there are definitely several bits for the older set as well. Story aside, Despicable Me 2 is also beautiful to watch. As with most 'toons these days, the animation is positively gorgeous, and the 3D is top notch. Excellent! Even better than the first. Really reminded me of the old Chuck Jones cartoons. Just the right amount of hilarity and romance. And you must love Agnes. Highly recommended for kids of all ages.
www.happyclicks.net Free Online Toddler Games and Baby Games