Mouse Game for Kids: Toys Game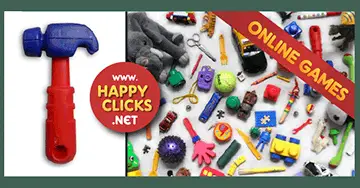 Free mouse games designed for children in the ages of two, three, four and five years old. Our designers have created engaging and colorful visuals that will capture the attention of kindergarten kids, toddlers and preschoolers. We have included images of objects such as toys, animals, objects, and drawings to make the online activities for children more relatable and familiar to kids. Here you will find many other fun and easy free fun activities to teach basic computer skills to young children boys and girls.
Let's encourage our children to enjoy our online games for toddlers, preschoolers and kindergarten kids while keeping in mind that the key to happiness lies in balance and moderation. Playing our online and free learning games can help kindergarten children, boys and girls, to improve hand-eye coordination, which is essential for many activities, such as sports and drawing. Kids, toddlers and preschoolers who learn to use different devices with online games can improve their hand-eye coordination by using touchscreens, keyboards, and mice.
As we continue to develop these free games for kids, boys and girls, we are constantly looking for ways to improve and enhance the online user experience. We have received valuable feedback from parents and educators, and we are taking that into consideration as we make improvements and updates. Our free exercises are designed for children aged 2 - 3 - 4 - 5 years old, boys and girls, and focuses on developing their cognitive and motor skills. We have carefully curated a list of free activities for kids that will keep them engaged while playing and learning at the same time.
Like this game? You may also like our kindergarten mouse practice games, and don't forget to discover our online maze games for preschoolers.