Drag and Drop Preschool Game: Matching Color Cups!
Featuring over 60 games, HappyClicks.net is the best website for your baby, toddler, and preschooler,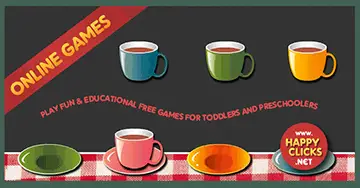 Play with your children the Color Cups Game! Logic online preschool games.
Do you like this game? Try other online preschool games and activities by dragging and dropping.
Excellent games to practice computer skills, made for children who love playing online games at an early age and for parents with the purpose of combining fun with educational activities.
Like this game? You may also like our Coloring games for preschoolers and toddlers, and the Games for babies and toddlers to play online.