Free Memory Matching Game for Kids with Animals: Cats
Online memory games for kids with animals: Cats.
Happy Clicks Website provides excellent Online Memory Games for kids.
In our free childrens site, kindergarten boys and girls will be able to exercise their minds by playing the most original free memotest and online memory games with animal drawings for 3 to 6 years old. Created with beautiful cat drawings, these online memory card games will help in the growth and development of children and kids from 3 to 6 years old.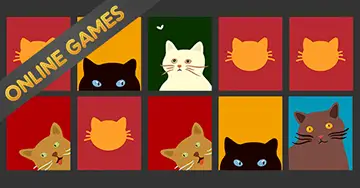 Why are our memory games with cats so good for kids to play? Because their little brains are already a storage place, and they will gradually begin to bring their experiences as a kid to their toddler consciousness. This type of free online memory matching games for children and toddlers can develop in kids from 3 to 6 years old, a skill that they will need in the future.
< All Memory Games for Kindergarten Kids
Your may also like to visit ours Online Games for Babies and Toddlers.
Years pass and children's memory card games continue to be part of the recreational life of our kindergarten boys and girls. Not only do they abound in plastic cards, now we can find multiple versions of digital memotest online and free to play. Thinking about this in our site of free online activities for young children from 3 to 6 years old we have taken care to develop quality free memory and memotest matching games with beautiful designs of our own to strengthen mental development when playing on our kid's site. Here kindergarten boys and girls will find fun and learning just by playing our online memory exercises for children and free memotest for kids from 3 to 6 years old.