Preschool Games Online: Rocket Ride Game
Encourage fun and learning at the same time with HappyClicks.net games. There are no time limits.
Discover All The "Mouse Move Games" or "Swipe Finger Games" >>>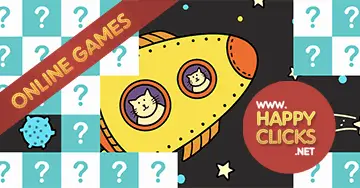 • Happy Clicks provides, among others, these kids games that will help them to develop the skill of use the mouse.
• Your children will want to play this games again and again!
• This website features Preschool Gamesmade for children who love playing on the computer at an early age and for parents with the purpose of combining fun with educational activities.
• Featuring over 60 games, the Happy Clicks site is sure to provide you and your kids hours of fun.
Play free fun computer Games for Toddlers and Babies and Online preschool maze games on our website, appropriate for your child's age and developmental level. Free online games for 1 - 2 - 3 - 4 - 5 year old.