The Magician: Baby and Toddler Educational Games Online
We hope that you enjoy the games and your time together with your children!
Mothers and fathers will find on this website educational activities for kids online. Introduce your toddler to computer with HappyClicks.net !
Happy Clicks provides, among others, toddler games that are activated by pressing any key.
Your child will want to play this games again and again!
< All Keypress Games for Toddlers
HOME: Preschool and Toddler Games >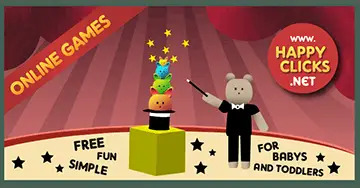 No mouse skills required for these keypress games for toddlers, just tap the keyboard and the fun begins! Toddlers will have fun watching the cause and effect with each key stroke. It is great for babies and toddlers that are just understanding the cause and effect concept.
This website features many activities for kids to do. Made for children who love playing online games at an early age and for parents with the purpose of combining fun with educational activities.
Online and free games for toddlers and kids (1- 2 - 3 - 4 - 5 year old).
All the Games for Toddlers and Babies, Preschool games for kids and Online games for 3 year old by dragging and dropping at this site are free.
You might also like Top 10 things for a Montessori baby 6 to 12 months old.
*****************
Extra Review: CARS
Great animation, great story and strong, humorous characters. Really shows the importance of friendship. This film exhibits the classic formula of multi-generational audience appeal, with goofy simple humor for toddlers and kids, sophisticated yet wholesome humor for the older folks. This film reinforces the notion that life is a highway, but sometimes the back roads can hold the most valuable treasures in life. One of the things about this movie that makes it so great was the good story. It is funny, well animated, has good characterization, and is just fun to watch.
This was one of the best movies from Disney Pixar we've viewed since "Finding Nemo". We brought children ages 2-3-4-5 and they all loved it. It was clean with some exceptions of crude humor. It is refreshing as a family film. "Cars" is a great family movie it shows true friendship and loyalty.
There are a load of valuable things in this movie—the main one being is that if you are really good at something, sometimes you will let that go to your head. This is exactly the case with Lightning McQueen. He was a great racing car who persevered and won every race, and was popular with all the "car fans," even to the rusty and worn down cars. However, he treated the rusty cars as if they were nothing, because he felt that it would ruin his image, and there is a valuable lesson to learn from something like this. It was interesting, however, that when his agent wanted him to invite 20 friends to his major race, McQueen couldn't think of one! Ideal movie for watching with preschoolers and toddlers!
Our App! MAUI MINI GAMES -Educational App for Toddlers and Preschoolers (2 - 3 - 4 - 5 year old)