Play with Animal Sounds! Educational Free Games for Toddlers
Interactive toddler games: The children will discover the animal names, hear their sounds and will understand the cause and effect concept by pressing any key.
Your children will want to play this games again and again!
Beautiful photographs selected to learn animal sounds and names: elephant, zebra, lion, tiger, rhino, and monkey. Educational game for babies and children 1 year , 2 years and 3 years old.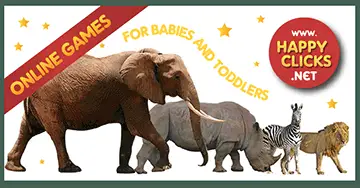 No mouse skills required for these games for toddlers, just tap the keyboard and the fun begins! Young children will have fun watching the cause and effect with each key stroke. It is great for toddlers and babies that are just understanding cause and effect.
We hope that you enjoy the games and your time together with your baby!
My little sister loves this game. Well done! Brooke
My grandson has hours of joy with this site. Tony
My little girl loves this, easy for toddlers to use. Mia
This game is so cool! Jennifer
I think it's great for kids, my grandson loves it. Nicole
I like it. It's so cool and cute! Julie
My little sister just plays these games. Megan
I like the games because it's educational. Brenda
This is an adorable game! Tara
I like this game because it helps me to learn. Melanie
This educational game is amazing I love it! Amanda
My daughter loves to play their games. Christina
This is the best learning site for toddlers! Angela
I have a 2 year old daughter, and she absolutely loves this game. Sophia
Simply great. My 3 year old girl learns a lot. Robert
Mothers and fathers will find on this website several activities for toddlers online. Introduce your kid to computer with HappyClicks.net !