Play with Animal Sounds! Baby and Toddler Educational Free Games
Mothers and fathers will find on this website free baby activities online.
Happy Clicks provides, among others, baby games that are activated by pressing any key.
Your baby will want to play this games again and again!
No mouse skills required for these games for babies, just tap the keyboard and the fun begins! Babies will have fun watching the cause and effect with each key stroke. It is great for babies and toddlers that are just understanding the cause and effect concept.
View all the Keypress Games for Toddlers and Babies >
HOME > Toddler Games Online - Free Preschool Games >
Introduce your baby to computer with HappyClicks.net online games.
Online and free games for babies and activities for toddlers (1- 2 - 3 - 4 - 5 year old).
Mothers and fathers can enjoy playing with their baby, toddler or preschooler.
All the Online Games for Toddlers, Maze games for children and Online Memory Games for kids at this site are free.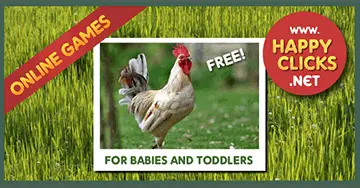 My little girl loves these games! Ashley
This site is so good for my 4 year son. Thanks! Ingrid
My sister loves this game. Diane
So good! This game helps my sister to develop her brain. Eddie
Great! My daughter loves this online game. Jamie
Good for Nursery & KG students. Susan
**** Best Movies for Kids: Monsters Inc. ***
"Monsters Inc." is the milestone animation of Pixar's big debut to the 21st century. As expecting, the film is amazing, containing good morals that audience of every age can understand and appeal. The animation is as beautiful and vibrant as even newer animated films. One of the most original concepts for a film I have ever seen, and great voice acting make this a must-see. One of Pixar's best, and also one of all of animations best films. As will all other Pixar movies, animation is not just for children.
This is a wittily funny movie for everyone. This movie was amazing. The movie was funny, as well as touching (I cried like a baby when Sulley was saying bye to Boo.) The thing that amazed me was that Sulley and Mike looked like monster versions of their voice actors [John Goodman and Billy Crystal] And the villain Randall was just plain cool. It's a great film to anyone (adults, kids, toddlers, babies). Charming and very funny, especially as its level of obvious gags is lower than most animated films. Much of the wit of this film is in its design, as well as in the pairing of the frenetic Crystal with the genuine Goodman.