Travelling Stars: Toddler Educational Free Games
Great for young children that are just understanding the cause and effect concept.
Happy Clicks provides beautiful games that are activated by pressing any key.
Your toddler will want to play this games again and again!
No mouse skills required for these toddler games. Children will have fun watching the cause and effect with each button push.
Introduce your kids to computer with HappyClicks.net online games. Mothers and fathers will find on this website free activities online. We hope that you enjoy the games and your time together with your children!
All Keypress for babies and toddlers >
HOME > Online Games for Kids >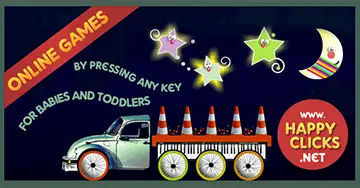 All the Games for Toddlers and Babies, Online games for kids by dragging and dropping and Preschool games to play at this site are free.
***
Movie Reviews - Kids Movies: Turbo
A simple snail is turned into a super-fast snail when he accidentally gets sucked up into a mudded cars turbo engine and he somehow mutates into this super snail (yeah you missed this idea Marvel). So this story is gonna be even more outlandish than the regular insect animations. While following the formula of countless kids films before it, "Turbo" is the type of film that is just as light-hearted and heartwarming as it is hilarious. With a story about a snail named Turbo who races in the Indianapolis 500, you have to be ready for ridiculousness from the beginning. I definitely prepared myself and it was a very fun ride! It's a great animated film to anyone (adults, kids, toddlers, babies).The voice acting is so Hollywood that it became a little distracting to me, and the father-son moments kind of made me role my eyes a bit, but there are truly some scenes that got me a little teary-eyed. "Turbo" is by no means the best animated film of the year, but it's a good watch if you have nothing better to do. Definitely, an appropriate movie for your kids, toddlers and family.
www.happyclicks.net Free Online Toddler Games and Baby Games