Hello City: Toddler Educational Free Games
No mouse skills required for these games for toddlers, just tap the keyboard and the fun begins!
Interactive online games designed especially for toddlers and preschoolers.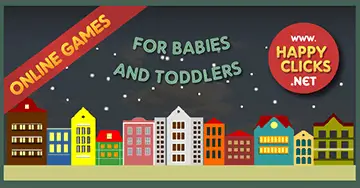 Happy Clicks provides, among others, toddler games that are activated by pressing any key.
Toddlers will have fun watching the cause and effect with each key stroke. It is great for babies and toddlers that are just understanding the cause and effect concept.
We hope that you enjoy the games and your time together with your children!
All Keypress Games for Toddlers and Babies >
Introduce your kids to computer with HappyClicks.net online games. Mothers and fathers will find on this website free activities online.
Free games for toddlers 1- 2 - 3 year olds.
All the Games for Babies and Toddlers to play online, Preschool games and Memory Preschool Games for Kids at this site are free.
*************
Movie Reviews - Kids Movies: Lilo and Stitch
A wonderful kid's movie and film, Lilo and Stitch combines familiar elements and adds a Hawaiian theme to create a heartfelt motion picture that even the adults will enjoy. The artful animation is just one of the many great qualities this film has to offer. Take an alien in Hawaii and throw in some Elvis, and it is makes for an amazing movie. An ideal movie for kids and toddlers. What makes Lilo so loveable (besides being cute as the proverbial button) is that she's genuinely weird. She's not just another gorgeous Barbie type stamping her pretty foot to show how "spirited" she is (like a pet pony): she's truly bizarre, with matter-of-fact statements about a fish that controls the weather and her doll whose days are numbered because a bug laid eggs in her ear. Stitch is just adorable, and the supporting characters (Nani and Cobra Bubbles especially) are excellent. It's hilarious and heartwarming, showing how even the worst of enemies... can become the best of friends. One of the best and funniest movies for toddlers to come out in a long time. The humor appeals to kids, toddlers and old alike and the music is fantastic.
www.HappyClicks.net Free Online Toddler Games and Baby Games.