Play Growing Flowers: Baby and Toddler Educational Games Online
No mouse skills required for these toddler games, just tap the keyboard and the fun begins!
Babies will have fun watching the cause and effect with each key stroke. It is great for young children that are just understanding cause and effect.
Happy Clicks provides, among others, toddler games that are activated by pressing any key.
Your kids will want to play this games again and again!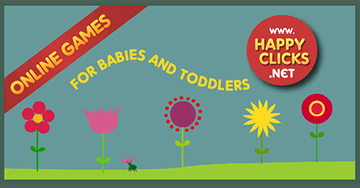 View all the Keypress Games for Toddlers and Babies >
Mothers and fathers will find on this website several activities for toddlers online. Introduce your child to computer with HappyClicks.net !
Online and free activities for toddlers 1 year olds.
Parents can enjoy playing with their baby, toddler or preschooler.
All the Online Games for Toddlers and Babies, Preschool games for kids and Coloring games for Toddlers and Preschoolers at this site are free.
************
Movie Reviews - Kids Movies: Spirited away
This film has everything an animated film should have: great voices (Suzanne Pleshette giving two very different characters two very different voices), cutting-edge animation (in a world of computer animation, its hand drawn beautifully), and best of all: an amazing, and innovative story. This movie is a phenomenon. The animation is so beautiful that one can hardly describe it in words. Some of the characters may seem strange, but that's what makes the story so enchanting. Each background scene is so gorgeous that it puts the dull real world in shame. The characters are very natural (Chihiro and Haku are so cute!), and there are a lot of attention to the details (e.g. the times when Chihiro trips). Some of the best kid-friendly films of all time. The music is haunting and evocative. The graphics are colorful and beautiful and fascinating. Adults, children and toddlers, critics and average viewers, anime lovers and anime haters will find something in this movie that grabs them deep down and drags them along through the whole thing. There are too many ways to describe this movie. Yes. The hype is true. Watch it and find out for yourself with your kids and family.
www.happyclicks.net Free Online Toddler Games and Baby Games.