Planes in the sky! Toddler Educational Games to play online
Mothers and fathers can enjoy playing with their baby, toddler or preschooler.
Happy Clicks provides, among others, toddler games that are activated by pressing any key.
Your children will want to play this games again and again!
No mouse skills required for these games for toddlers , just tap the keyboard and the fun begins! Kids will have fun watching the cause and effect with each key stroke. It is great for toddlers and babies that are just understanding cause and effect.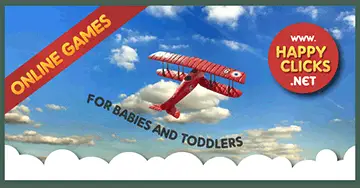 View all the Keypress Games for Babies and Toddlers >
Parents will find on this website several activities for toddlers online. Introduce your children to computer with HappyClicks.net !
All the Online Games for Toddlers, Online maze games to play and Online Memory Games for preschool kids at this site are free.
Free games for kids.
Movie Reviews - Kids Movies: Monsters University
If you want to have a great time, if you are sad or simply you want to avoid your problems, "Monsters University is your film". It's true Monsters University has no electrifying images but it a good film, like one night at the disco. Laughes are guaranteed. Like many other Pixar movies, this one was a charm to watch and it achieved to deliver some good laughs and some surprisingly heartwarming moments. An ideal movie for kids and toddlers. This a great movie, and an awesome prequel that stays true to original monsters inc feel. It is great for the whole family, with comedy oriented for children, toddlers and adults. This is a type of movie where you don't have to see the original to enjoy, although there may be some references that are from the original movie. .The movie is funny and has a good story. This movie might not be as good as the first one but still I consider this as one of the best movies this year. Monster's University is a PRE-quell, but you know what I mean. This movie shared the same heart as the first Monster's movie and it was as cute, funny, and endearing as the first one.
www.happyclicks.net Free Online Toddler Games and Baby Games