Mouse Game for Kids: Clothing - Musical Instruments - Flowers
Children love playing games online!
Encourage fun and learning at the same time with HappyClicks.net online games.
Our mouse games are designed for children specifically in the ages of three, four and five year old.
Happy Clicks Net it's a helpful website for parents featuring age appropriate educational games.
All the online games for 3 year old by dragging and dropping, online coloring games for toddlers and preschoolers and memory games online for kindergarten kids at this site are free.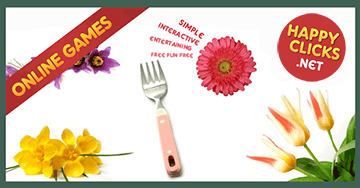 Here you will find many others easy-to-play games to teach basic computer skills to toddlers and kids.
Do not forget to discover our ONLINE MAZE GAMES FOR PRESCHOOL KIDS!
Free online games for toddlers, babies, preschoolers and kids.
Thank you so very much! My child is in LOVE with this game! Annabel
My baby sister loves the game. Martha
I love your click's games, please make more! Dean
I love how you make games! Phoebe
This site is the best! I like this game. Angela