Kids Memory Game: Animal Sounds!
There are no time limits. Happy picture matching!
Happy Clicks Website provides excellent Free Memory games online for kindergarten kids.
Our memory games are designed for children specifically in the age group of 3 to 5 years. Preschoolers love playing memory games online; these learning games teach important skills for preschool and elementary school kids.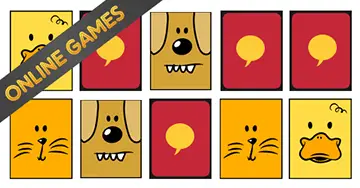 Few of the benefits of playing memory games include:
Memory games enhances your child's reasoning and cognitive skills.
Memory games can help children to improve his memory by concentrating and focusing.
This website features Games for Babies and Toddlers. Made for children who love playing online games at an early age and for parents with the purpose of combining fun with educational activities.
Here you will find many others fun and easy games to teach basic computer skills to babies, toddlers and preschool kids.
< All Memory Games for Kindergarten Kids
Free online games for preschoolers, kids, toddlers and babies.
My son loves it and he's only 4 years! Gloria
Perfect, simple and easy for young children. Jessica
My little sister is always happy when she plays this game. Hannah
Good game for my daughter. Simple and educational. Alexandra
My little boy loves this game. He plays it every day. Paula
Very nice game for kids to learn and fun. Abby
Excellent! Very useful game for baby. Courtney