Mouse Game for Kids: Fun Objects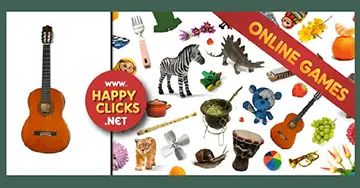 Find many fun and easy-to-play games to teach basic computer skills to preschoolers. In this case we have created this illustrated activity with beautiful images of objects that will attract the attention of the little ones, boys and girls. Kids today have a lot of options when it comes to online and free activities for children. Whether they are toddlers, preschoolers, or babies, there are plenty of learning and fun free options available to keep them engaged and entertained.
Our mouse exercises are designed for children in the ages of 2, 3, 4 and 5 years old.
Online games can be a fun and engaging way for them to develop new skills and learn. From toddlers to preschoolers and babies, there are plenty of options available to keep kindergarten kids entertained and happy. Of course it's important to use online games in kindergarten and preschool in a responsible and age-appropriate way. Mothers, fathers and teachers should carefully choose online activities that are suitable for young children, boys and girls and that promote positive behaviors and values in kids. So let's encourage our children, girls and boys to enjoy the best free games while keeping in mind that the key to happiness lies in balance and moderation.
For these reasons, on our kid's entertainment free site we are exclusively dedicated to creating the best online activities for children, girls and boys, providing high-quality resources so that mothers and fathers can rest easy letting their children of 2, 3, 4 and 5 year old play with these safest online and free games for kids.
Like this free game? You may also like our challenging logic mazes for kids.
Children love playing games online! Try this online game for 3 year old whit your children!