Mouse Game for Kids: Trais - Round - Ducks - Click on the odd one out.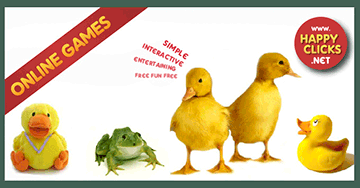 All the learning preschool games at this site are free.
Encourage fun and learning at the same time with HappyClicks.net online games.
Our mouse games are designed for young children who love playing computer games and for parents with the purpose of combining fun with educational activities.
Do you like this game? You mau also try our Memory Games for Kids!
Find easy-to-play keypress games for toddlers and young kids.
Children love playing computer games!
Free online games for toddlers, babies, preschoolers and kids.
My little kids love trains! Lee
My 3 1/2 year old loves this game. Louis
Great game for toddlers and preschoolers. April
My kid just can't stop playing this game. Mary
Beautiful trains! It's very nice to play! Stacey