Mouse Game for Kids: Trais - Round - Ducks - Click on the odd one out.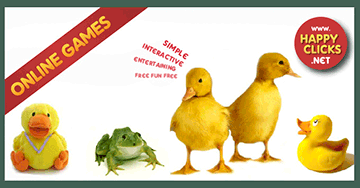 All the online learning preschool games at this site are free. Encourage fun and learning at the same time with HappyClicks.net.
Creating online activities for kindergarten kids is no easy feat. It takes a lot of patience, creativity, and imagination. We know that children, toddlers and preschoolers are fascinated by our online games. So, we decided to bring the highest quality free exercises with the most beautiful drawings and images with their own designs that you will not find in other online entertainment sites for children, boys and girls. In conclusion, creating free content for kindergarten kids, preschoolers and toddlers was a journey filled with excitement and adventure. We hope that our free educational activities bring joy and learning to children, boys and girls, all over the world.
We are excited to share our free activities with the world and provide a fun and educational experience for kindergarten kids, preschoolers and toddlers. We hope that our free games will inspire a love of learning and curiosity in children, boys and girls, and encourage kids to explore the world around them.
Our mouse and touch screen free exercises are designed for young children who love playing online games and for parents with the purpose of combining fun with educational activities. Many online learning activities are designed with kid's safety in mind. These online educational games are free from inappropriate content and are safe for children, boys and girls, to use. Parents can feel confident that their kindergarten kids, preschoolers or toddlers, are playing and learning in a secure environment.
Did you play our best learning activities? You may also try our Memory Games for Kids!
Find easy-to-play key-press games for toddlers and young kids.