Memory game with colours and looks
Happy Clicks Website provides excellent memory games for kindergarten kids.
Encourage fun and learning at the same time with HappyClicks.net online games. There are no time limits. No winners or losers.
Our memory games are designed for children specifically in the age group of 3 to 5 years. Preschoolers love playing memory games online; these learning games teach important skills for preschool and elementary school kids.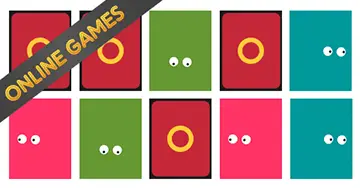 Memory games can help children to improve his memory by concentrating and focusing.
Kids love practicing their memory skills while playing fun online games like the card flipping memory match game.
You may also like our Online Coloring games for Toddlers and Preschoolers,Online maze games to play and Free games for kids by dragging and dropping.
I love it for my little sister. Amy
Nice. It motivates my son to learn with this game. Mabelle
Thanks for creating this site. Helen My 4 yr old has been playing on this site for months! Tea
Awesome games! My son loves them. Lindsey
This is a great game for my kid. Bob
Oh! Adults also like to play and test their memory! We invite you to play adult memory games at TucoGames.com