Free Memory Game for children to play: Hats
Memory matching game for preschoolers to play. In addition to all the online educational activities for children, we have created these games for kids from 3 to 6 years old to exercise their mind and play without stopping.
Happy Clicks Website provides excellent Online Memory Games for kids.
Our free online childrens memotest are made with the most beautiful drawings created by us to play and to fun for kindergarten children. Always with an eye on the benefits that online educational games for kids bring to boys and girls from 3 to 6 years old, that is, in full stage of brain development and their mind capacities when playing.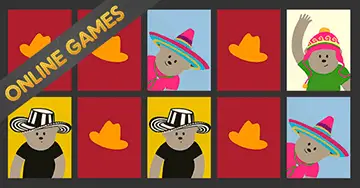 Some of the many benefits that 3- to 6-year-olds children get from playing our online memory matching games for kids and free memotest are increased brain concentration in a short time, keeping it active, positive effects on the mind and the power to strengthen the brain. But perhaps the most direct effect of playing with our free memory games for toddlers or kindergarten boys and girls is the development and strengthening of visual memory, something that will be so useful in the years that lie ahead just by playing.
< All Memory Games for Kindergarten Kids
It is always advisable to play these free online memory card games for children and memotest for kids from an early age to facilitate the learning of young kindergarten boys and girls. For all this in our children's games site for preschoolers boys and girls we have developed the most beautiful and fun children's free memory games online to play for kids from 3 to 6 years old and memotest for kindergarten boys and girls.