Online Toys Memory Game for Preschool Kids
Encourage fun and learning at the same time with "Happy Clicks".
Our memory games are designed for children specifically in the age group of 3 - 4 - 5 year olds.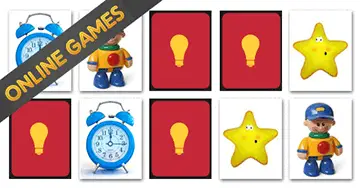 Do you like this game? Visit our Online Memory Game for preschool kids: Jungle Animals Game!
Visit our website and find many others ease to play games to teach basic computer skills to toddlers and preschool kids.
< All Memory Games for Kindergarten Kids
You may also like our computer educational games for preschool kids.