Tom Robot: Baby and Toddler Educational Free Games to play using keyboard or touch screen version for Android - iPad
We hope that you enjoy the games and your time together with your baby!
Mothers and fathers will find on this website several activities for toddlers online. Introduce your kids to computer with HappyClicks.net !
All the Games for Toddlers and Babies, learning games for preschoolers and Maze games at this site are free.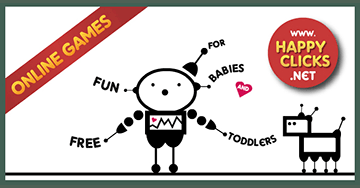 Happy Clicks provides toddler games that are activated by pressing any key.
No mouse skills required for these games for babies and toddlers, just tap the keyboard and the fun begins! Children will have fun watching the cause and effect with each key stroke. It is great for babies and toddlers that are just understanding the cause and effect concept.
< All Keypress Games for Toddlers
Games made for children who love playing online games at an early age and for parents with the purpose of combining fun with educational activities.
Online and free baby games and activities for young children 1- 2 - 3 year old.
You might also like Montessori activities for toddlers 24 months.
HOME > Games for Babies - Toddler Games - Preschool Games >
**** Best Movies for Kids: SHREK ***
The kids-toddlers market is often helped by an adult gag or two and Shrek is no different. Inside jokes for the parents, outside jokes for the kids it's a good 90 minutes of family fun. Probably one of the best animated films you will see in your life. Shrek has everything going for it - Solid voice acting by a highly experianced cast, A funny story, and an interesting film that was worth sitting through. Unbelievably funny and sometimes crudely funny which the kids, toddlers and preschoolers loved.
The makers of Shrek have betrayed the first rule of animation: The Voice artists must fit the design of the character. The jokes make you laugh so hard you have tears in your eyes, the animation is so real you can't believe it. Such an enjoyable movie for both adults & children. The animation is stunning, the humour consistent and hilarious and the story highly original.
The whole concept of fairytale creatures as one body no longer being accepted in society is very creative. 'Shrek' is the ultimate family movie, and is sure to please kids and their parents. It's the complete experience, and one that will win over people of all ages. Don't miss it!