Colorful train: Toddler Educational Games to play online
Online games for toddlers.
Happy Clicks provides toddler games that are activated by pressing any key.
Your kids will want to play this games again and again!
All Keypress Games for Babies and Toddlers >
This website features many activities for toddlers to do. Made for children who love playing online games at an early age and for parents with the purpose of combining fun with educational activities.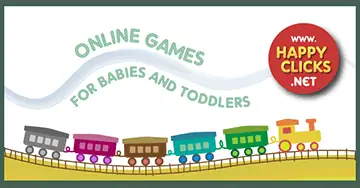 See more Free Games for Toddlers and Babies, Young Children Games and Online games for 3 year old at this site are free.
Fun games for toddlers, just tap the keyboard and the fun begins! Children will have fun watching the cause and effect with each key stroke. It is great for babies and toddlers that are just understanding the cause and effect concept.
***
Extra Review: The Croods
DreamWorks proves once again that they know how to create a beautifully animated, hilarious, and heartwarming family movie. The all-star voice cast really brings these characters to life, and the movie is filmed to the brim with the non-stop laughs. The story at the core of it all is sweet as well, even if it is a bit familiar. This is a fantastic, must-watch family comedy. It's got everything a high-quality animated movie should have, like fantastic voice acting, animation, humor, and story. So when you and your family are sitting down for a family movie night "The Croods" should be at the top of your list. An ideal movie for kids and toddlers. If you're looking for anachronisms in this movie you'll find plenty. If you're looking for sweet moments, funny moments, clever storytelling, and universal age appeal, you'll also find plenty. Flat out, this is a great movie to share with your young children. There is no villain, no actual heartbreak although there are some extremely touching father / daughter exchanges just adventure and stunning animation. The characters were very well done: they were all funny, human and they had their personality. A perfect match for children who love movies such as Ice Age and The Lorax. The Croods is a magical movie with lots of fun and loss of laughs. Very sweet and cute with lots of positive messages about being together with family. The Croods is your ticket to a great child movie.
www.happyclicks.net Free Online Toddler Games and Baby Games