The Peepers Owlies: Baby and Toddler Educational Games to play online
Free games for 1- 2 - 3 year olds.
Mothers and fathers will find on this website several activities for toddlers online. Introduce your baby to computer with HappyClicks.net !
No mouse skills required for these games for babies, just tap the keyboard and the fun begins! Babies will have fun watching the cause and effect with each key stroke. It is great for toddlers that are just understanding the cause and effect concept.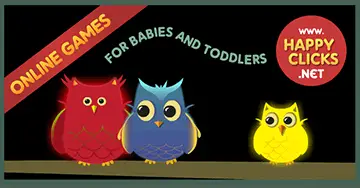 Happy Clicks provides, among others, toddlers games that are activated by pressing any key.
Your young children will want to play this games again and again!
< All Keypress Games for Toddlers
We hope that you enjoy the games and your time together with your baby!
Games made for children who love playing online games at an early age and for parents with the purpose of combining fun with educational activities.
All the Games for Toddlers, Online games for 3 year old and Memory games online for kindergarten kids at this site are free.
You might also like 20 More Ways to Keep Toddlers Busy.
View all the Games for Babies and Toddlers by pressing any key >>
HOME > Baby Games, Games for Toddlers, Games for Preschoolers >
Movie Reviews - Kids Movies: : ICE AGE
Ice Age is a great animated film to anyone (adults, kids, toddlers,babies) may be lost. It have an expolsive cast of characters i sat through the whole movie enjoying every bit of it! It has a lot of charm, emotion, humor, it's perfect! Ice Age takes you on a trip back in time to when the world was one great big snowball and everybody would ditch their digs and migrate south for winter so they didn't end up giant popsicles. It is so much fun for kids, babies and every age. The plot is brilliant as well and the characters are genius. Fantastic voice acting by the cast as well. A must see family film imo. A great movie I watched as a toddler and after 8 years I can still come back and watch it without getting bored of it. A great movie in my perspective to watch with your kids and family. The characters are charming and the story is fantastic, this is a movie that will find its way into your heart and stay there.