Mouse Game for Kids: Numbers 6 - 7 - 8 - 9 - 10
Our mouse games are designed for children in the ages of 2, 3, 4 and 5 years old. One of the main advantages of using our games for kindergarten kids, toddlers and preschoolers is that they can help young children to develop their cognitive and problem-solving skills. Many online activities for kids require boys and girls to use their spatial reasoning, memory, and logical thinking abilities. For example, online puzzles and free matching games can help children, boys and girls, to improve their attention and memory to detail. Also our free games for toddlers, kindergarten kids and preschoolers can help them develop their hand-eye coordination and their reaction time.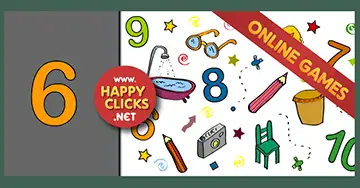 Preschool Learning activities For Kids.
Kids love playing games online!
Here you will find many fun and effective free activities to improve your child's concentration skills. Free games for kids can also be a great way for kindergarten girls and boys, to relax and unwind after a long day at kindergarten or other activities. When children are feeling anxious or stressed, playing a fun and engaging free game can help kindergarten kids to forget their worries, play and have fun.
Made for children who love playing online at an early age and for parents with the purpose of combining fun with educational activities. At our free entertainment site for young children we dedicate ourselves every day to creating the best children's content with the best online and free educational games for kids 2, 3, 4 and 5 years old.
All the learning games for babies, toddlers and preschoolers at this site are free.
Easy to play games to teach basic computer skills to toddlers and preschoolers.