Free Kids Memory Game: Weather Symbols
You will discover the sun, moon, rain, thunderstorms and a rainbow!
Happy Clicks Website provides excellent Online Memory Games for kids.
Encourage fun and learning at the same time with HappyClicks.net online games.
There are no time limits. No winners or losers. Kids have fun while learning!
Our free young children's gamesteach important skills for preschool and elementary school kids.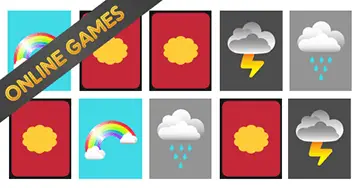 Few of the benefits of playing memory games include:
Memory games enhances your child's reasoning and cognitive skills.
Memory games can help children to improve his memory by concentrating and focusing.
Kids love practicing their memory skills while playing fun online games like the card flipping memory match game.
< All Memory Games for Kindergarten Kids
Your may also like to visit ours Online Games for Babies and Toddlers.
This amazing game is educational for kids! Lisa
Love it sooooo much! Morgan
The game is perfect. Estelle
My granddaughters enjoy this game so much. Michael
My 3 yrs. old is obsessed with this game! Natasha