Kids Memory Game: Play Fruits Game
Kids love practicing their memory skills while playing fun online games.
Happy Clicks Website provides, among others, excellent memory games for children.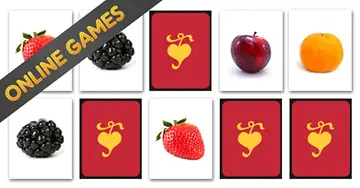 Play fun games and online activities for your 3 - 4 - 5 year-old child.
< All Memory Games for Kindergarten Kids
Benefits of playing memory games include:
Enhances your child's reasoning and cognitive skills.
Can help children to improve his memory by concentrating and focusing.
Happy Clicks Net is the best website for your kids, featuring age-appropriate entertaining learning games.
This website features Games for Babies and Toddlers to play online, made for children who love playing online games at an early age and for parents with the purpose of combining fun with educational activities.
You may also like our Learning Games for kindergarten kidsand the Online Coloring games for Toddlers and Preschoolers.
Happy Clicks : Online games for preschoolers,toddlers and babies.