Free online games for kids and toddlers by Happy Clicks ►
Online games especially designed for babies, toddlers, and preschool kids.
In today's digital age children, boys and girls, are exposed to technology from a young age or for kindergarten. Our online educational games can have a positive impact on a kid's learning and preschooler's development while using the new technologies. Free educational games for kids, toddlers, and preschoolers are a great online way to make learning fun and engaging.
Mouse Game: The odd one out (colour, placement, expressions)
Free games for children 2, 3, 4, 5 and 6 years old. Many online educational activities for kids, boys and girls are designed to be played on a computer or tablet, but our exercises can be played on smartphones and other mobile devices too. This makes it easy for kids, toddlers and preschoolers to learn and play online no matter where they are. One of the biggest benefits of our online activities for kindergarten children, boys and girls is that they are completely free to play. This means that parents can provide their children 2, 3, 4, 5 and 6 years old with access to free high-quality educational content without having to spend any money.
Preschoolers and kindergarten kids love playing games online!
Do you like this game? You may also like our mouse skill games for kindergarten kids!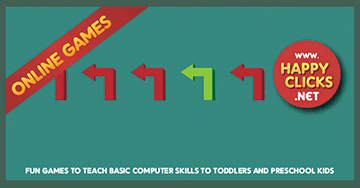 Free game for 3 - 4 - 5 year old
This free entertainment site is designed for children, boys and girls, specifically in the ages of three, four and five years old.
Made for children who love playing online games at an early age and for parents with the purpose of combining fun with educational activities.
All the learning preschool activities and mouse skill activities for kindergarten kids at this site are free.
Here you will find many other easy to play free games for young children.
So why wait? If you're looking for a fun way to help your kid, toddler or preschooler to learn and have fun, check out some of our amazing free and online educational games for children.