★ Free online games for kids and toddlers by Happy Clicks ►
Online games especially designed for babies, toddlers, and preschool kids. With technology playing an increasingly significant role in our lives, it's important to help kindergarten kids, boys and girls, to learn to use different devices such as tablets, computers and smartphones. Our online educational games for kids 2, 3, 4, and 5 years old can be a great tool to play and achieve this goal.
Mouse Game for Kids: Cars
Whether your child 2, 3, 4, and 5 years old loves solving puzzles, exploring new worlds, or coloring beautiful drawings, our online educational activities site is available to suit every interest and learning style. With bright colors, fun animations, and exciting challenges, our free games for kids, toddlers and preschoolers offer an engaging and fun learning experience that children won't be able to resist. All the learning preschool exercises and toddler games at this site are free.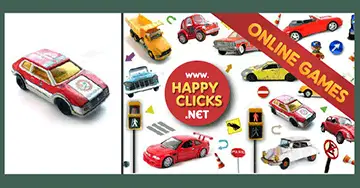 Online game for young kids, boys and girls: Cars. Free fun for toddlers Free activities to improve your child's concentration skills.
Our mouse exercises are designed for children specifically in the ages of three, four and five years old. Made for kindergarten kids, boys and girls, who love playing online games at an early age and for parents with the purpose of combining fun with educational activities. Our online educational exercises are readily available and accessible to all kids with an internet connection.
For kids, toddlers and preschoolers, touch screens and computers can be a great tool for development, play and learning. Many online entertainment sites and apps have been designed specifically for young kindergarten children, boys and girls, and can help them learn important skills. You are in the best entertainment site for children with the funniest online games for kids, toddlers and preschoolers to play. Parents can easily access these free activities on their computers, tablets, or smartphones. This means that children 2, 3, 4, and 5 years old can learn and play anywhere and anytime with total security.
Like these activities? You may also like our learning games for preschoolers.
Do not forget to discover our online games for toddlers and our 4 pieces puzzle for children.