★ Free online games for kids and toddlers by Happy Clicks ►
Online games especially designed for babies, toddlers, and preschool kids. Many online educational activities require children, boys and girls to use their spatial reasoning , memory, and logical thinking abilities in order to succeed. For example, matching games and puzzle games can help kindergarten kids, toddlers and preschoolers to improve their memory and attention to detail, while other free learning activities can help kids to develop their reaction time and hand-eye coordination.
Mouse Game for Kids: Objects Game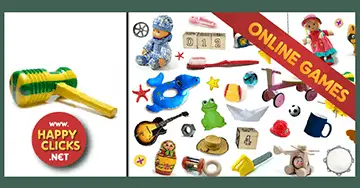 Free games for preschoolers, toddlers and kindergarten kids. Our team has been working tirelessly to develop the best online and free activities for young children, boys and girls. We understand that kids today are spending more and more time on screens, and we want to provide an educational and entertaining experience for them. Our free exercises for kids are designed for kindergarten children, girls and boys, aged 3-5 years old and focuses on playing and developing their cognitive and motor skills. We have carefully curated a list of online activities that will keep them engaged while learning at the same time. Online exercises to improve your kid's concentration skills. Our mouse games are designed to play for kindergarten kids, preschoolers and toddlers specifically in the ages of two, three, four and five years old. In addition to playing with the mouse, our free games are designed to be used and learned with touch screen devices such as smartphones and tablets.
Happy Clicks website features age-appropriate entertaining free learning activities for young children, girls and boys. On our online children's entertainment site we work responsibly to offer the most beautiful free online activities for kids, preschoolers and toddlers so that they can play and engage in complete safety.
Did you love playing? You may also like our other Educational games for preschool kids and Free games for toddlers and babies.
Here you will find many others fun and easy online activities to teach basic computer skills to toddlers and preschool games to play.